Hello Freshwater Farm Blog, how are you today?
Having a nice hot bath is the ULTIMATE way to relax and unwind and we want to show you how to do it right! These are our top 5 must have items for the perfect luxury bath. 
CANDLES
Candles are an obvious must for a luxury bath! They always seem to create such calming atmosphere. Pick your favourite scent, light the candles once the bath is run and arrange them around the tub. Lavender is the perfect scent for relaxation or try a citrus blend to clear the mind. Peppermint is also great for stress!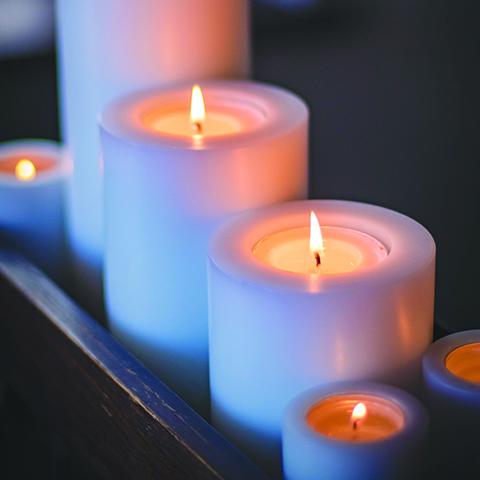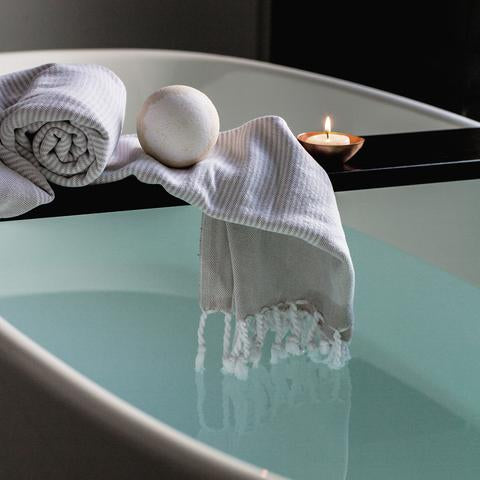 WOODEN BATH TABLE
A wooden table that runs over the top of the tub is a great way to take your bath time to the next level. It can be used to hold your favourite bath products, a hand towel, a book or even a glass of wine. 😜 You can buy a table like this in many homeware stores but if you want to save some money buy a wooden panel (a floor board/deck panel) from a DIY or Hardware store like Bunnings, have it cut to the width of your tub and ta dah you have a bath table ready to go!
FRESHWATER FARM BODY BARS
Now of course we had to throw in at least one of our products in here but I really do mean it when I say our Freshwater Farm Body Bars are truly a luxury bath must have item! They are available in so many stunning scents which will ensure you feel relaxed and refreshed. These body bars also produce the creamiest lather, making your skin feel super nourished and soft.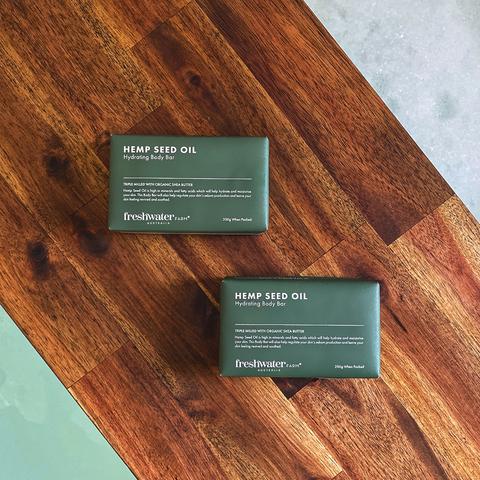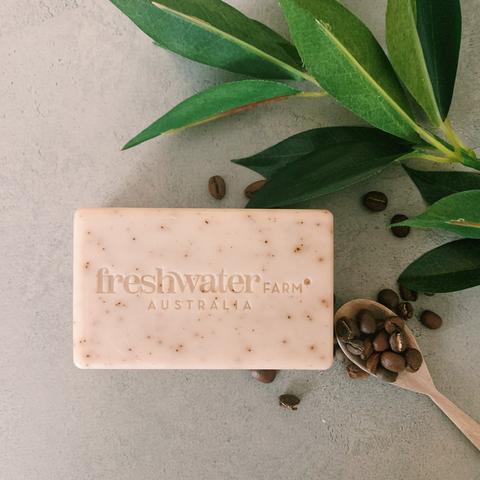 EXFOLIATOR
An exfoliator is the perfect addition for a luxury bath. Removing all of that dead skin away and revealing the new smooth skin below is such a lush feeling. Those with normal skin types should exfoliate around 3 or 4 times a week. Exfoliators come in many forms including a pumice block/stone, body scrubs, exfoliating mitts and exfoliating soap bars like our delicious Coffee Polishing Body Bar.
BUBBLE BATH MIXTURE
Finally, adding bubbles is the final step for that perfect luxury bath! Add a generous pour of your favourite bubble bath mix whilst the water is still running and watch those bubbles form. If you don't have any bubble bath around you can also use a few pumps your favourite liquid wash to create a beautiful scent and give the water that smooth feel.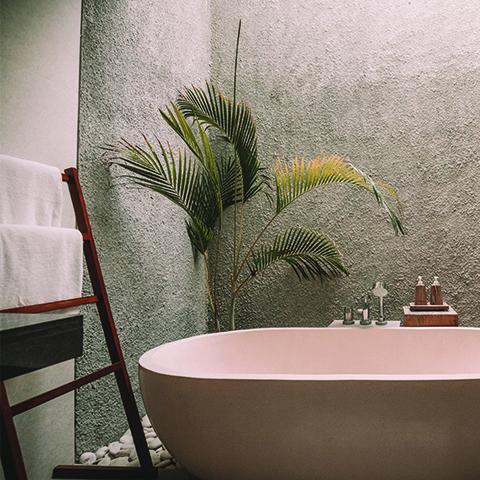 We hope these items help you to have the most indulging bath time EVER! Comment below your favourite way to relax!
Lots of love, Freshwater Farm xo