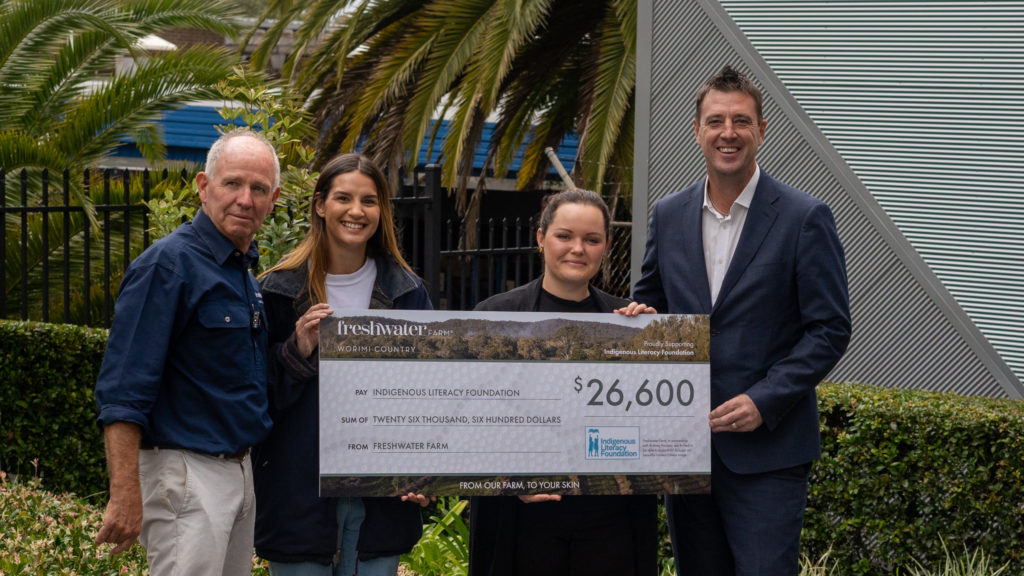 $26,600 presented to Indigenous Literacy Foundation!
Last week saw the celebration of a hugely successful collaboration between Indigenous artist Brittney Paulson and Northern Beaches-based business Freshwater Farm. On a rainy Sydney day, the sunshine briefly appeared when CEO and Founder Al Hutcherson presented a cheque for $26,600 to Indigenous Literacy Foundation representative Laura Atherden, with the help of Brittney Paulson and Northern Beaches Council Mayor Michael Regan in our Northern Beaches factory.
Al's speech began with an acknowledgment of the country and a welcome to Brittney and our guests. Al explained that the purchase of the farm (Freshwater Farm) has been the realisation of a life-long dream for him and his family and the regeneration of the native oil plantation has become his passion, with the oils distilled at the farm being used to manufacture Freshwater Farm products. Also in attendance on the day were local councilors, media, Ironwoman and Freshwater Farm brand ambassador Lizzie Welborn and the entire Freshwater Farm team to celebrate this huge achievement.
In her speech, Laura Atherden was so thrilled with the amount raised and explained that this amount of money would see over 2,500 new books published in Indigenous Communities around Australia, giving them the opportunity to publish books in their own language. The charity's purpose is to invest in remote Aboriginal and Torres Strait Islander communities to provide the tools and resources they request to shape the direction of their children's literacy future. Through investment in Community and strategic partnerships, the ILF will support sustainable and positive change in Indigenous literacy through the supply of books and a greater focus on the publication of Indigenous content.
Brittney Paulson presented the original artwork to the Hutcherson family on the day, the beautiful artwork names 'Where the land meets the sea' will take pride of place in the Freshwater Farm offices for the team to enjoy.
If you would like to find out more about the amazing work that the Indigenous Literacy Foundation do, simply head over to their website https://www.indigenousliteracyfoundation.org.au/ For all of you that have purchased products from our Limited-Edition range, thank you so much for your support!
Lots of love,
Freshwater Farm xx