Natural Australian Skincare Ingredients You Need To Try
Hey Fresh Farmers, today we wanted to share some of our research on a range of native Australian natural ingredients you will find in some of our products and at Freshwater Farm. We pride ourselves on using nature's most unique and divine ingredients because we know all of the incredible benefits they can provide for your skin. Read on to find out how some of these Australian ingredients can really transform your skin and body.
1. Kakadu Plum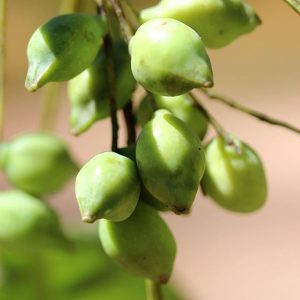 Kakadu Plum is an Australian native fruit which has actually been recognized as the worlds richest source of Vitamin C. Vitamin C helps to promote collagen production. Collagen is the main structural protein of our skin, hence a higher level of collagen will lead to firmer and smoother skin. If you are after a youthful and toned look, Vitamin C is an essential ingredient. Vitamin C can also help to encourage the skins natural healthy glow and radiance.
Kakadu Plum is also an antioxidant which as discussed above makes it great for anti-ageing as it protects the skin cells from damage. It also helps to keep the skin cells hydrated.
Kakadu Plum contains ellagic acid which works to strengthen the skins protective barrier and reduce irritation.
Sara from our Lab Team says:
"One thing I love about the addition of Kakadu Plum in our products is that it is beneficial for people (like myself) who have blemish-prone skin. It's high in anti-oxidants so it detoxifies the skin and prevents breakouts, meaning I can rock a more natural, low-coverage makeup look with confidence."
Suffer from body acne? Kakadu Plum could be your saviour! Shop our Kakadu Plum + Australian Red Clay Body Bar
2. Wattle Seed Extract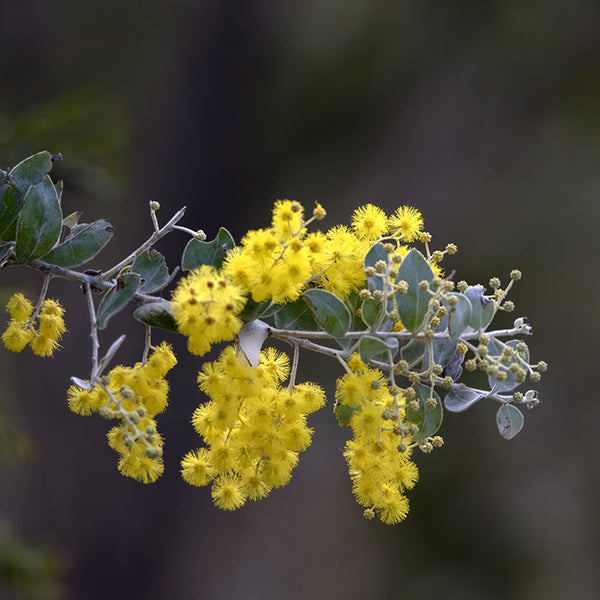 Wattle Seed Extract comes from Australia's floral emblem – Golden Wattle. It is often correlated with the spirit of Australia as this little flower is known withstand droughts and bushfires, hence represents the resilience of Australians.
Wattle Seed Extract is becoming a rising ingredient in natural skincare due to it's antioxidant levels. Antioxidant is a word often thrown around in skincare but basically this refers to the ability of a substance to slow or prevent the damage of skin cells. This skin cell damage is caused by a failure to remove waste products of the cells or otherwise known as free radicals. The production of free radicals can be increased by factors like exposure to the sun or environmental pollution which for our skin causes signs of ageing. Antioxidants help to fight and protect the skin cells from this damage. Wearing sunscreen every day is another important step to protecting your skin from free-radical damage.
Wattle Seed Extract is also high in Gallic Acid which has a wide range of benefits for the skin including calming redness, fading dark spots and promoting an even skin tone.
Wilson from our Lab Team says:
"Without getting into the nitty gritty, Wattle Seed and its extract is rich in amino acids, promotes healthy, supple skin – it's also shown to have reduced inflammation in some studies. It is honestly a no brainer when formulating a good quality, functional product for skincare and the fact that it is a well-loved Australian native is simply a bonus."
Want to feel the benefits of Wattle Seed? You can shop our delicious new Saltbush + Wattle Seed Extract Body Wash here
3. Australian Saltbush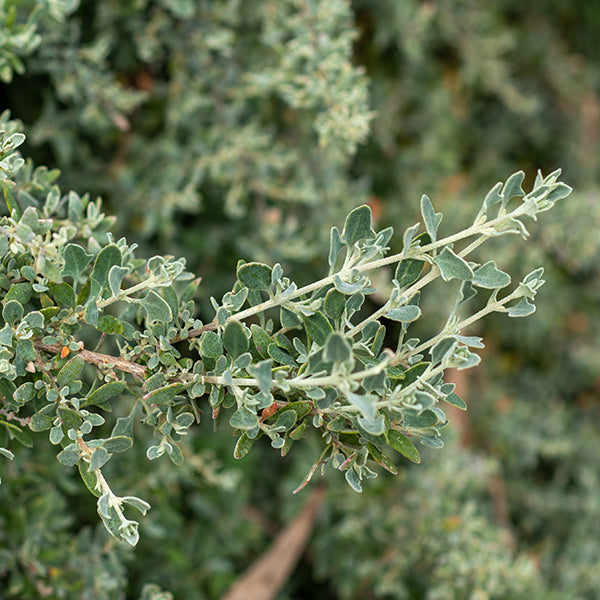 Australian Saltbush is a relatively new ingredient to modern skincare however in some Indigenous Australian Aboriginal cultures it was traditionally used for cleansing of wounds and irritations due to its antibacterial properties.
Saltbush is also rich in antioxidants and minerals to protect your skin.
Tom from our Lab Team says: 
"Due to its strong antioxidant and antibacterial properties, Australian Saltbush was an obvious choice to include in the Freshwater Farm range. Our Saltbush + Wattle seed extract body bars are a personal favourite of mine, and will leave your skin feeling fresh and rejuvenated"
Like the sound of refreshing and cleansing Saltbush? Our Saltbush + Wattle Seed Extract Body Bar is now available!
4. Lemon Myrtle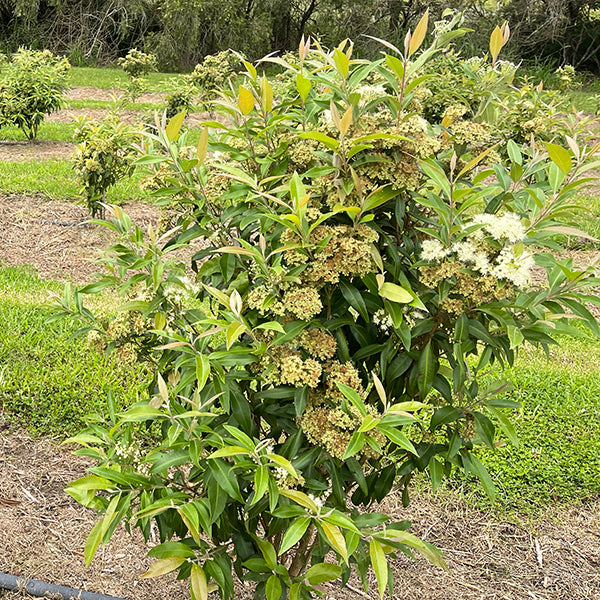 Lemon Myrtle Oil is a native Australian botanical that not only smells incredible but has great benefits for the skin, no wonder it is becoming extremely popular in skincare. Lemon Myrtle Oil has an astringent effect, which is perfect for tightening the pores to reveal clearer skin. It also has high levels of antibacterial properties which can deeply cleanse the skin to rid of bacteria causing acne or irritation.
Lemon Myrtle has great antioxidant levels to strengthen and protect skin cells. It's also also a good choice for oily skin and it can help to naturally balance the skins oil production to help rid of excess oil.
Lemon Myrtle Oil is also a well-known for its aromatherapy benefits. It is said to have an uplifting effect on the mood and can relieve headaches or stress.
Laymond from our Lab Team says
"Lemon Myrtle is an Australian native shrub with one of the most intense citrus notes out of any plant in this world. It contains a range of antioxidants, vitamin A and E and essential minerals such as zinc and magnesium to not only provide comprehensive protection but also repairs to the skin"
Love the Lemon Myrtle scent? Shop our farm grown and distilled Pure Lemon Myrtle Essential Oil here
5. Kunzea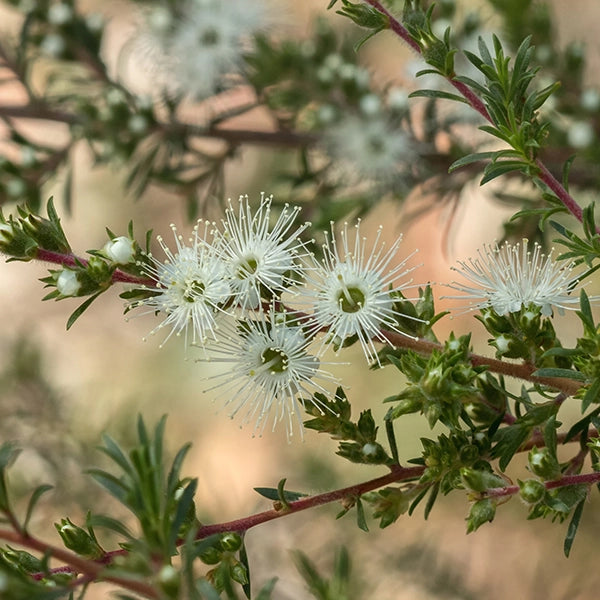 Kunzea is also a relatively new ingredient to skincare but it is a beautiful Australian native botanical. Kunzea is well known for its anti-inflammatory effect, helping to soothe any redness or irritation on the skin. Kunzea can also be used to help increase moisture and hydration.

In aromatherapy Kunzea works well for relieving headaches or a stuffy nose. It can also help relieve stress and keeps the mind refreshed.
Hazel from our Lab Team says:
"What I like about the addition of Kunzea Oil in our products is its lovely, refreshing and invigorating scent. It contains natural compounds that have anti-inflammatory and skin-soothing properties. Perfect in your everyday wash."
Is your skin in need of a little healing and soothing? Shop new our Kunzea + Sandalwood Oil Castile Body Bar here!
Thanks for joining us today. We hope you enjoyed this little educational piece from us. Are there any other ingredients you would like to know more about?
Lots of love,
Freshwater Farm xo