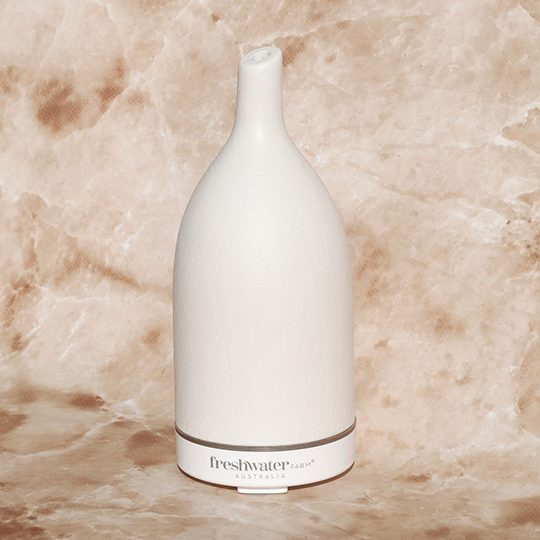 AROMA DIFFUSER | Essential Oil Diffuser White
Delight your senses and fill your home with the scents of Freshwater Farm introducing the ceramic Freshwater Farm diffuser; the safe and effective way to fragrance your world naturally.





The ceramic Freshwater Farm diffuser offers one of the purest forms of diffusion available, whether you are a naturalist or prefer 100% pure essential oils or the modern twist of fragranced oils.
Utilising the instantaneous benefits of ultrasonic vibrations, our diffuser works silently in the background to break down your fragranced infused water into a microscopic mist that easily dissipates into the atmosphere, leaving your mind, body and soul at peace.
With no heating or chemicals, compact design and a built-in auto-shutdown feature, our diffuser is the ideal companion for use around children or elderly.

AUSTRALIAN MADE
Freshwater Farm is home to nearly 100 acres of native botanical plants
Many of the plants used to create the essential oils used in our product range are grown on our very own farm, situated on the NSW Mid-North coast. This includes our tea tree, lemon scented tea tree, lavender tea tree and salt bush. These plants are also essential in producing our Manuka Honey as the bees feed on the flowering lemon scented tea tree.
Read more