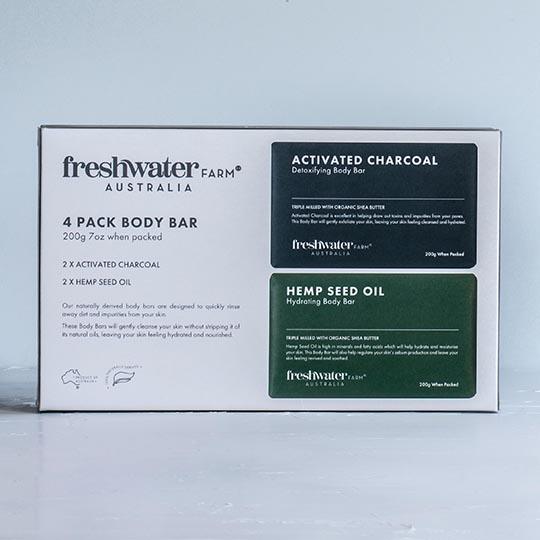 BODY BAR SET | Value Pack 4 x 200g
Hemp Seed Oil is high in minerals and fatty acids which will help hydrate and moisturise your skin. A botanical blend of Hemp Seed Oil & Lemon Myrtle, Patchouli, Neroli and Cedarwood essential oils triple-milled with skin-softening emollients creates a creamy lather rich in moisture.

This Body Bar will also help to regulate your skin's sebum production and leave your skin feeling revived and soothed.
Activated Charcoal is excellent in helping draw out toxins and impurities from your pores. Our botanical blend of Lemon Scented Tea Tree and Bergamot essential oils triple-milled with Activated Charcoal will help to detoxify your skin.
Freshwater Farm's traditionally triple-milled soap bars are made with only the finest natural ingredients. Each Body Bar is carefully made with Australian Olive Oil and Shea Butter to create a creamy lather that is rich in moisture.
 
↠ Naturally Derived
↠ Triple-Milled
↠ Gentle on sensitive skin
↠ Vegan friendly 
↠ Australian Made + Family Owned
Hemp Seed Oil
Activated Charcoal

Triple Milled for a lasting + luxurious lather
Crafted to envelop you in soothing aromas, luxurious lathers and revitalising hydration, our luxurious triple milled Body Bars will have your skin feeling incredibly silky and smooth with every use.

And with an array of aroma options like blue cypress and juniper berry, coconut and desert lime, peppermint, lavender, and rosewater ~ you're sure to find something that perfectly matches your mood.
Our process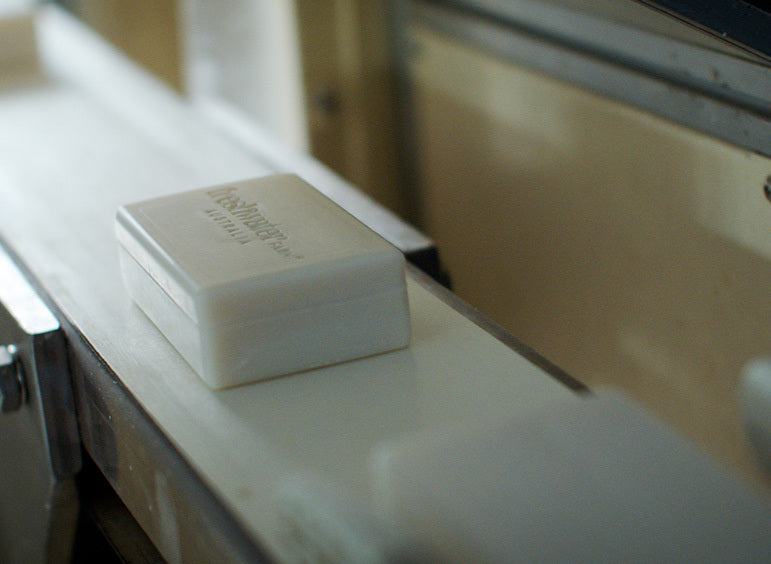 AUSTRALIAN MADE
Freshwater Farm is home to nearly 100 acres of native botanical plants
Many of the plants used to create the essential oils used in our product range are grown on our very own farm, situated on the NSW Mid-North coast. This includes our tea tree, lemon scented tea tree, lavender tea tree and salt bush. These plants are also essential in producing our Manuka Honey as the bees feed on the flowering lemon scented tea tree.
Read more