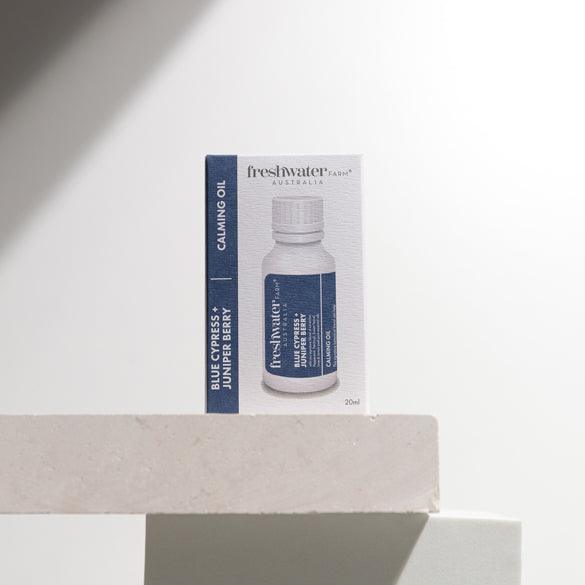 ESSENTIAL OIL | Calming Blue Cypress + Juniper Berry Oil 20ml
With our signature blend of Lavender, Peppermint, Patchouli, Sweet Fennel, Lime & Lemon peel pure essential oils.


CALMING OIL
This signature botanical blend can help restore calmness and clarity to the mind and body.
↠ 100% Pure Essential Oil Blend
↠ Vegan Friendly 
↠ Proudly Australian Made
↠ Cruelty Free
↠ Not Tested On Animals
Callitris intratropica (Blue Cypress) Wood Oil, Juniperus (Juniper) Berry Oil, Mentha Arvensis (Peppermint) leaf oil, Lavandula Hybrida (Lavender) Oil, Pogostemon Cablin (Patchouli) Leaf Oil & Foeniculum Vulgare Dulce (Sweet Fennel) Fruit Oil

AUSTRALIAN MADE
Freshwater Farm is home to nearly 100 acres of native botanical plants
Many of the plants used to create the essential oils used in our product range are grown on our very own farm, situated on the NSW Mid-North coast. This includes our tea tree, lemon scented tea tree, lavender tea tree and salt bush. These plants are also essential in producing our Manuka Honey as the bees feed on the flowering lemon scented tea tree.
Read more