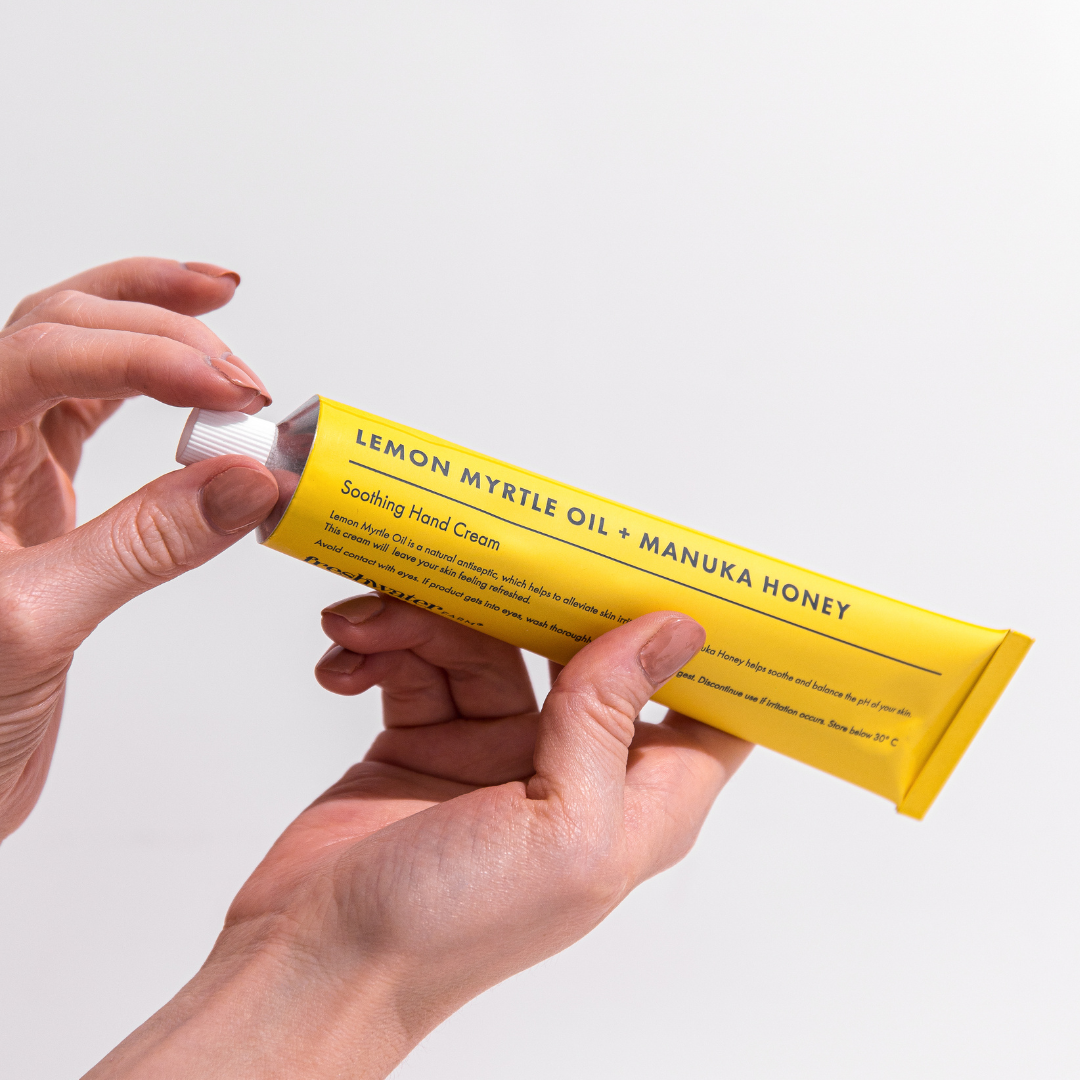 HAND CREAM | Soothing Lemon Myrtle Oil + Manuka Honey 100g
Lemon Myrtle Oil will invigorate the senses with its uplifting citrus aroma, and when paired with Manuka honey, will soothe and balance the skin. This cream will leave your skin feeling refreshed and moisturised.



SOOTHING HAND CREAM
Our Lemon Myrtle + Manuka Honey hand cream contains lemon myrtle essential oil extracted from the plants grown on our farm on the mid-North Coast of NSW. The Manuka Honey used in this product is produced by our very own Freshwater Farm bees! Manuka Honey has a low PH that keeps your skin bright and smooth.
↠ Natural + Organic Ingredients
↠ Honey produced by our very own bees
↠ Proudly Australian Made
↠ Cruelty Free
↠ Not Tested On Animals
DIRECTIONS FOR USE
Apply a small amount to hands, massage into skin in circular motions. Warning: Avoid contact with eyes. If product gets into eyes, wash thoroughly with water.
100ml | 3.3fl oz
Aqua (Purified Water)*, Glycerin*, Caprylic/Capric Triglyceride*, Cetearyl Alcohol*, Prunus Amygdalus Dulcis (Sweet Almond) Oil*, Helianthus Annuus(Sunflower) Seed Oil*, Macadamia Integrifolia Seed oil*, Tocopherol (Natural
Vitamin E)*, Butyrospermum Parkii (Shea) Butter**, Backhousia Citriodora (Lemon Myrtle) Leaf Oil*, Glycine Soja (Soy Bean) Oil*, Australian Honey (Manuka)*, Aloe Barbadensis (Aloe) Leaf Juice*, Calendula Officinalis Flower Extract*, Glycyrrhiza Glabra (Liquorice) Root Extract*, Centella Asiatica (Gotu Kola) Extract*, Ceteareth-20* , Phenoxyethanol ,Carbomer, Stearic acid*, Dimethicone, Caprylyl Glycol*, Sodium Hydroxide.
*Naturally derived
**Organic Ingredient
This formula is 98% Naturally Derived

Best-Selling Hand Creams!
Designed to moisturise and soothe your hands with a nourishing base of shea butter and Vitamin E, our hand creams rapidly absorb into your skin, leaving them feeling silky smooth and ready to face another day. The natural aroma of our hand creams comes from infusion of essential oils- we stay away from artificial fragrances here at Freshwater Farm!​​​​​​​​

Packaged in beautiful aluminium tubes for infinite recyclability, these hand creams make the perfect gift!
​​​​​​​​
Try our Hydrating Hemp Seed Oil hand cream for those who need relief from dryness; it also smells great thanks to its natural oil content. Or try our moisturising Rosewater hand cream which is perfect if you want softly scented palms for spring with the benefit of skin calming and anti-bacterial properties!
Our process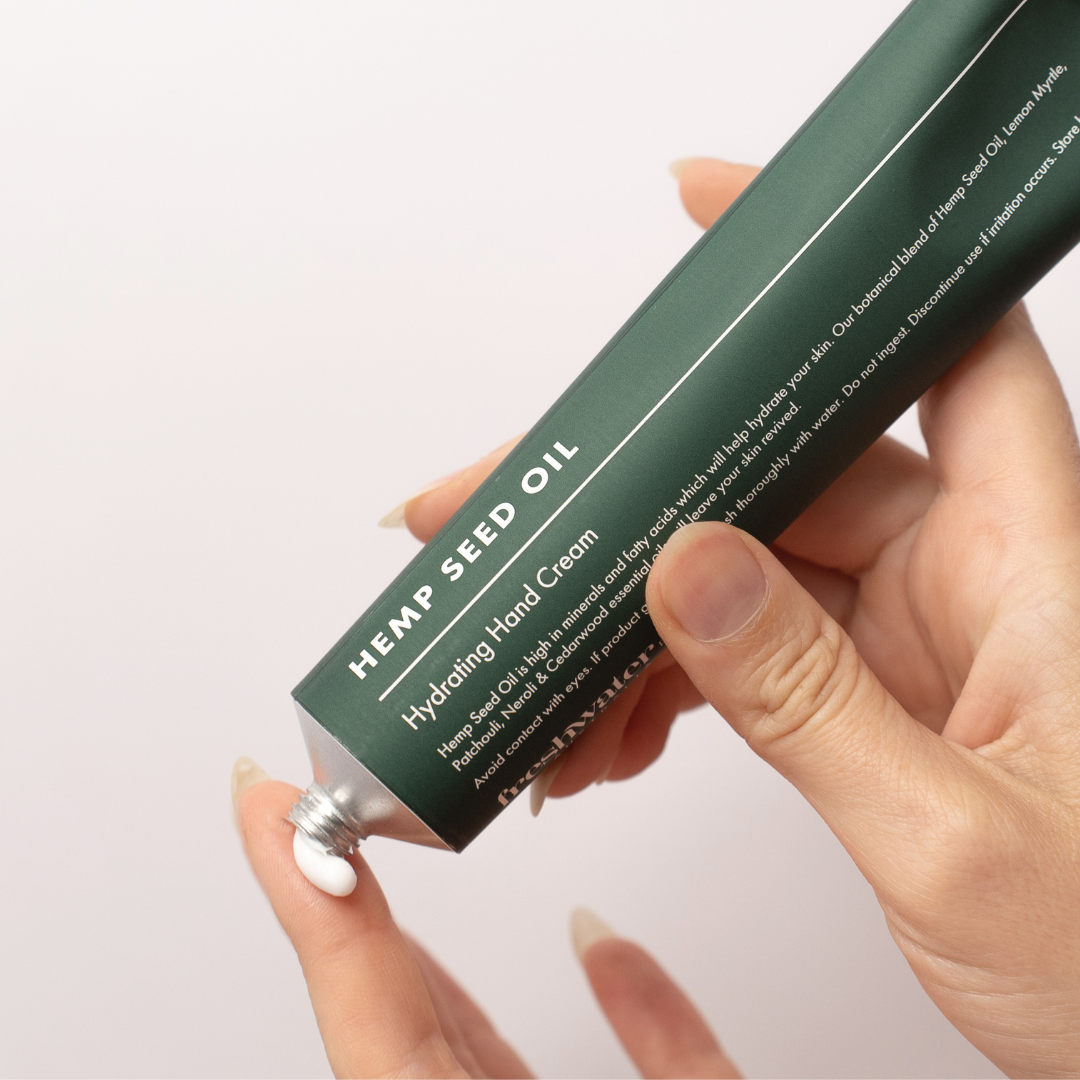 AUSTRALIAN MADE
Freshwater Farm is home to nearly 100 acres of native botanical plants
Many of the plants used to create the essential oils used in our product range are grown on our very own farm, situated on the NSW Mid-North coast. This includes our tea tree, lemon scented tea tree, lavender tea tree and salt bush. These plants are also essential in producing our Manuka Honey as the bees feed on the flowering lemon scented tea tree.
Read more