Our top 5 skin + hair care essentials for your Easter camping trip!
Easter school holidays is that time of year when you pack everything that you own into your car and squeeze the kids into whatever space they can fit in for that camping trip to your favourite destination with everything crossed so that the dreaded rain doesn't hit! There is nothing better at this time of the year than sleeping under the stars and waking in the morning to the cool fresh air and a hot coffee. There is no need to completely rough it, we have put together a collection of Freshwater Farm skincare essentials that will protect and nourish your skin and hair during the trip, whilst being great for the environment.
Our handy little Tea Tree + Eucalyptus Hand Sanitiser 60ml pump gels take up no room at all and will be your best friend if you have little people that are dragging themselves through the mud every 5 minutes! Our Australian-made hand sanitiser gel has been carefully formulated by our in-house lab team to ensure its' thickness and ability to keep your skin nourished and smelling amazing using our very own Tea Tree Essential Oils from the farm. Once you try this skin-loving hand sanitiser you will never go back!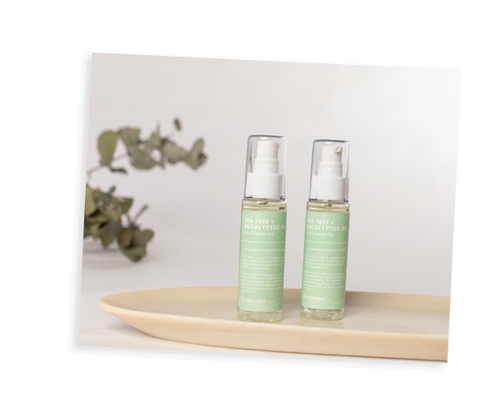 2. Limit Your Chemical Use
Some of the products campers may bring with them include soaps and detergents to clean up their utensils or for some, they would want to clean up either their gear or some of their clothes. Most of these products we use contain harmful chemicals in them. When we pour out the soapy water we've used, it will drain into the soil or run to other water sources damaging the environment and polluting the water sources. Therefore, opt to go for natural biodegradable liquid castile soap such as our Freshwater Farm Lemon Myrtle + Manuka Honey Body Wash, castile liquid is made from olive oil and coconut oil making it 100% biodegradable and suitable for washing your body and your dishes saving you from packing multiple bottles. Throw in a bar of Tea Tree + Eucalyptus soap bar for an environmentally friendly shower staple suitable for the whole family.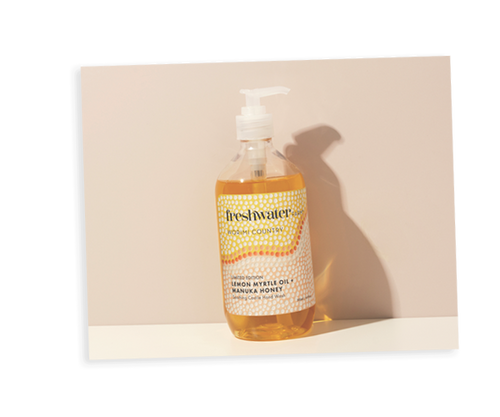 When it comes to packing your toiletry bag for the whole family, bulky shampoo and conditioner bottles can take up a lot of valuable space along with insect repellent and sunscreen. We have the perfect solution for the eco-conscious (and space-conscious!) camper with our Freshwater Farm Shampoo + Conditioner Bars. These soap-free bars are perfectly pH-balanced to 5.5 to ensure your hair and scalp remain hydrated and healthy. For normal hair, choose our Rosewater Cleansing Shampoo and Conditioner Bars. Our shampoo and conditioner bars are responsibly packed in 100% recyclable packing making them a better choice for the planet.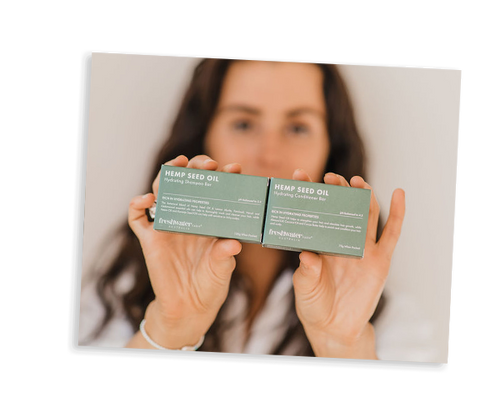 Ticks are prevalent here in Australia and can carry some pretty nasty toxins that react to different people in different ways, even leading to the contraction of Tick-borne diseases such as Australian Tick Typhus or 'Spotted Fever'. It's always best to ideal to stay out of bushy areas and wear long sleeves and pants, but we also have some great tick-repelling solutions! Choose an essential oil such as Kunzea (Tick Bush) Essential Oil or Eucalyptus Essential Oil for their tick repelling qualities, either use the oils on a burner or add dilute with a skin-loving carrier oil such as coconut oil to apply directly to the skin.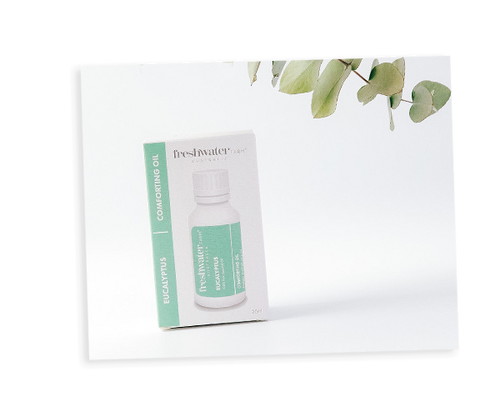 5. The Perfect Remedy for Hardworking Hands
Camping can be pretty hard on your hands, the heat during the day and cold at night, putting up the tent, and constant washing of dishes, clothes, and dogs! Take some time at the end of the day to give your hands some love after your shower by lathering them in our Freshwater Farm Rosewater Moisturising Hand Cream, its rich base of shea butter and almond oil will leave your hands feeling soft and nourished.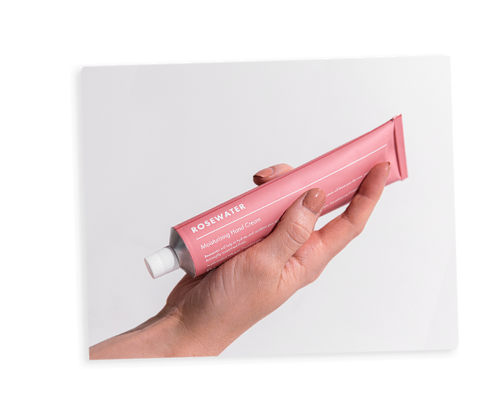 Enjoy the Easter break, we hope the Easter Bunny comes to you!
Lots of love,
Freshwater Farm xx