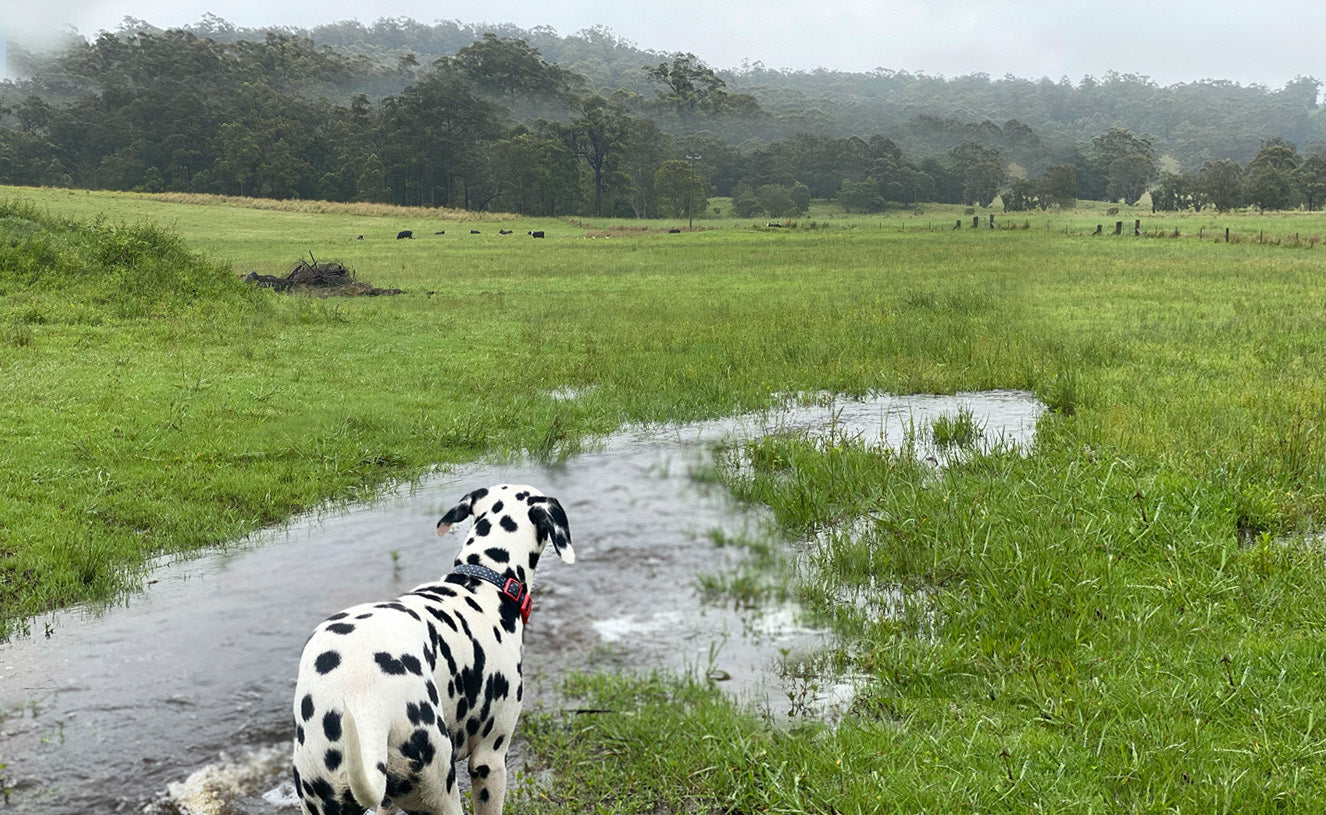 What's Happening at the Farm- November 21
With a La Nina confirmed in Australia, we expect to see a lot more of this rainfall during Summer 2022, we have received a huge 320ml of rain at the farm starting around the second week of November which has really hampered the harvesting of our Tea-tree and Lemon-scented Tea tree. The first 150ml was well received by our thirsty plants but we could have done without the rest! However, it is much preferable to a drought.. We are lucky that we planted our new crops of lemon myrtle just at the right time, and with the addition of some of Neutrog's Who Flung Dung fertilizer, we expect to see some great results come harvest time. We have been busily working to expand our plantation over the past few months, recently planting another 1000 lemon myrtle plants, 1000 Old Man Saltbush & 1000 Kunzea plants. The Kunzea was grown from very small tube stock in the greenhouse over the Winter and has recently been planted with another 1000 plants to come over the next month. Our Freshwater Farm Kunzea + Sandalwood range has quickly become a firm favourite among our customers, we now have a hand wash, body wash, body bar, and pure essential oil in the range. Have you tried it yet?.
A great deal of time has been taken in preparing the ground over Winter for more Lemon Myrtle, Kunzea and Saltbush in the plantation. We are also looking to add 1000 Melaleuca ericifolia (lavender tea tree also called Rosalina), a new addition to our essential oil collection. The essential oil of this species has a distinct lavender note that goes with a more traditional eucalyptus-like smell of the other components of the oil. This oil can be used in a diffuser, oil burner, or in the bath to release its relaxing, refreshing, and calming aroma. The ground has been extremely wet during November, so harvesting has been limited in the lemon-scented tea tree plantation. The Leptospermum petersonii (Lemon scented tea tree) is now in bud, soon the aromatic flowers will bloom attracting the birds and bees to the plantation. We are now in the process of harvesting all of the honey from our 12 hives in preparation for the influx of Manuka Honey, we have now got an abundance of newly harvested farm honey which is now available online
The reason that we get manuka honey here on Freshwater Farm is that Leptospermum petersonii is a very close cousin of the Leptospermum scoparium (manuka bush), which is native to New Zealand and Australia. The only real difference between the two is that the Manuka bush flowers more profusely. The manuka honey that we produce on the farm is small in supply and is used in our hugely popular Lemon Myrtle + Manuka Honey range. Farmhand Ricky found an Eastern Rosella nesting in one of our old rotting fence posts this month, he made a containment line around the nest to give them some peace but managed to capture this beautiful image first! Yellow-tailed black cockatoos are also regular visitors to the farm, there has been a lot of Casuarina cunninghamiana (Australian beefwood) planted over the years at the farm as well as a lot of naturally occurring Casuarina glauca (swamp oak) which are a staple diet of the black cockatoos and generally attracts a lot of native birds. They are welcome guests at Freshwater Farm, even Frankie likes them!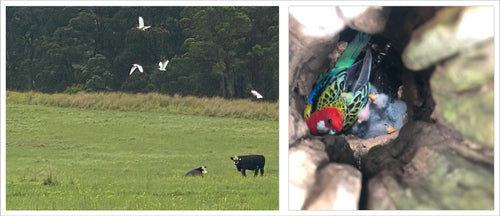 Al captured this great shot of the White Egrets flying over the paddock last week. White Egrets love the wet, hence why they are spending so much time at the farm right now! They are also great for getting rid of grubs and bugs that are not so welcome at the farm. Did you know these beautiful and elegant birds are actually considered endangered in Western Australia and Victoria?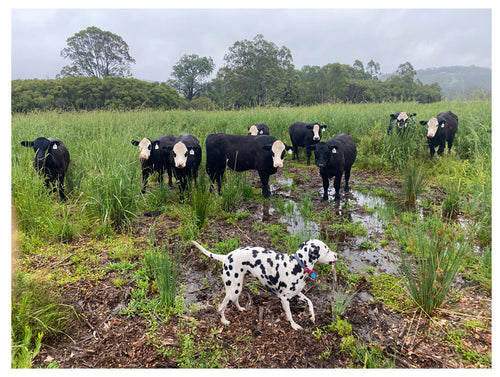 Farm dog Frankie had a great time with our new Freshwater Farm cows, we are not sure that the feeling was mutual!
We now have 11 cows on the property, given the sole job of keeping our paddocks under control, the grandkids just love them. The cows are getting lots of human contact, even hand feeding so that we can encourage them to clear the weeds throughout the plantation, luckily, they don't like the taste of lemon myrtle! We do have to keep them out of the delicate low-lying regrowth of the tea-tree planation though as they may walk straight over it.
This month, Al was asked to sit in for our friend Uwe Stroeher at Neutrog for a chat with Graham Ross- Al, as a long-time 2GB listener jumped at the chance and did a great job! It looks like we could lose our distinguished leader to a new career in radio! Al's extensive knowledge of horticulture came from his passion for gardening that resulted in him getting a diploma in horticulture and later fulfilling his dream of buying a working farm. It's well worth a listen if you have a green finger.
You can find out more about our relationship with Neutrog and how their products have helped our crops HERE.
Hope you enjoyed our update and have a Happy Christmas!